When I joined this incredible organisation, I said it was like joining a family, rather than just a job and how true that has been! As many of you know, after much soul searching and prayerful consideration, I feel it is the right time to pass the baton to a new team who will lead the organisation into the next exciting phase of its journey. And so, it now feels a little bit like leaving a family and not just a job!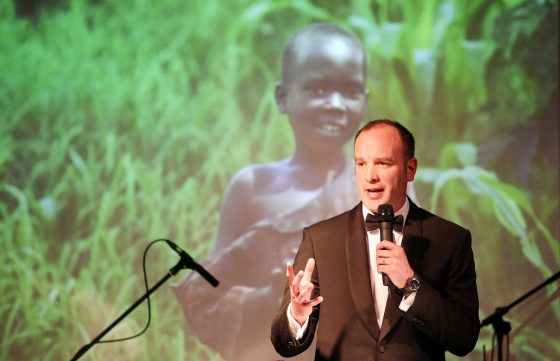 Over the last few months, I have been reflecting on my time with Fields of Life, nearly 11 years. Just a short while after joining in November 2009, I had the honour of being asked to lead the organisation as your CEO from April 2011. This has been and will always be, one of the greatest privileges of my life to have served in this role, especially at a time when you entrusted me to navigate our way through the most difficult and testing time in the organisation's history.
As I reflect, there are lots of memories that stick out. Lunch with the Queen and Prince Philip on their visit to Northern Ireland when Fields of Life had the honour of lighting a beacon at the top of Slieve Donard as part of the Diamond Jubilee celebrations. Having dinner with Ruby Wax and Gareth Southgate at fundraising dinners is memorable (I will let you guess whose company and conversation I found more interesting!) as well as meeting lots of amazing volunteers at the many events and adventures we had as we raised funds together. Whether it was climbing Kilimanjaro in Africa, riding bicycles around Ireland, walking virtually to Uganda, I will never ever forget the unwavering support and selfless generosity of all of the Fields of Life supporters who have sustained our work and mission in East Africa. You are indeed truly family and without you none of what we do would be possible. Seeing our fundraising family and operations grow into England, Scotland and USA in recent years has been a real joy and gives the family a truly international and global feel. Thank you to all of you from the bottom of my heart for continuing to stand with us in serving the incredible people of East Africa.
My personal sojourns to Africa have taken in Uganda, Rwanda, Burundi, DRC and South Sudan and I have travelled to places I never thought possible and been in situations that I wouldn't have dreamed of. There are countless stories, encounters and memories that will forever live in my heart. The red dust of Africa has profoundly coloured my soul. If I am honest, when I first travelled to Uganda in 2006 with my church and then again many times with Fields of Life from 2009 I asked myself questions like, "What can I do to help?", "How can I bring the heart and love of God to these people?", "How can I relieve their suffering and distress in Jesus name?", "How can we fix all of these problems?". Over the years God has brought me and I believe our organisation on a journey. He has channelled my own missional zeal and enthusiasm and spoken to me in powerful and life changing ways through the testimony of some of the most impressive disciples of Christ that I have ever met in my life. I have been challenged to the core with the strength of character, resilience, faith, talent, energy and hope that I have encountered and already exists in East Africa. And so in humility, my questions have changed in time to questions like, "Lord, can you show us where you are at work in Africa?", "What are you teaching us about how we interact with, and support your church and communities in East Africa?", "Father, what are you teaching me through the life and example of these Christian leaders who lead in the most difficult of places and circumstances?", "How am I challenged and changed to live for Christ in a more authentic way in my family, in my church, in my community here?". This heart of mission that burns within us, is mutually transformative and is seeing lives changed, communities transformed and hope built in the streets of Belfast, Dublin and elsewhere as well as on the red dusty, murram paths of East Africa. It has been such a joy to see so many people encounter God in powerful ways through the work of Fields of Life and its staff and partners on the ground in East Africa.
It is in the service of these wonderful people I have found real joy and encountered Jesus.
Most of all, it has been humbling to see our organisation genuinely partner and support the local church in East Africa to meet need as they see it and to play our part in helping harness and unlock some of that potential which exists and to watch transformed young people who have grown up in faith really live it out authentically, and as they do, inspire and teach us in equal measure.
It has been my honour to walk this journey with such a passionate, courageous and committed staff team along with incredible partners in East Africa with kingdom hearts and minds who will continue to see lives changed, communities transformed, and hope built. I firmly believe Fields of Life's best days are ahead of it. Better things are yet to come.
I am thankful for the privilege to have worked alongside all of you for so many years. You will all forever have a special place in my heart. Thank you for speaking hope into my life.
Yours in Christian partnership,
Richard