Together, our amazing sponsors have helped provide support to thousands of children, helping families and communities through this devastating pandemic. We are so grateful for the support and encouragement of all of our child sponsors!
In our last update in March 2021, you will have read that schools in Uganda were carrying out a phased return of classes. All classes, apart from Nursery and lower Primary classes, were able to return to school before June. Unfortunately, rising numbers of Covid-19 cases meant that in June, the Ugandan government announced a strict lockdown, meaning all schools were once again closed.
In the months that children have been home from school, sponsors have provided invaluable support:
Emergency Funds
Children and their families are being provided with emergency funds to purchase food and medical supplies. Our staff have been working hard to make sure that all money is going directly to sponsored children. Teenage girls will be provided with a little extra money, to purchase menstrual hygiene supplies that they would usually receive in school.
1,200 children and families have been provided with emergency cash so far.
"I'm really very grateful for the emergency money I have received. I am a student in Kampala and when the president announced the lockdown, I was stuck and couldn't go home. I had nothing to eat, and nothing to pay for rent but today I have gained hope. I will use this money carefully to buy some food and pay my rent. I am very happy. May God bless you." -Ronald
Home- Learning Materials
23,434 children have also been provided with home-learning materials, and will continue to be provided with up-to date schoolwork. Parents have been empowered to help their children as they learn at home in their villages. With restrictions easing, teachers are able to host small study groups within villages. This encourages children, parents and teachers, and keeps everyone connected!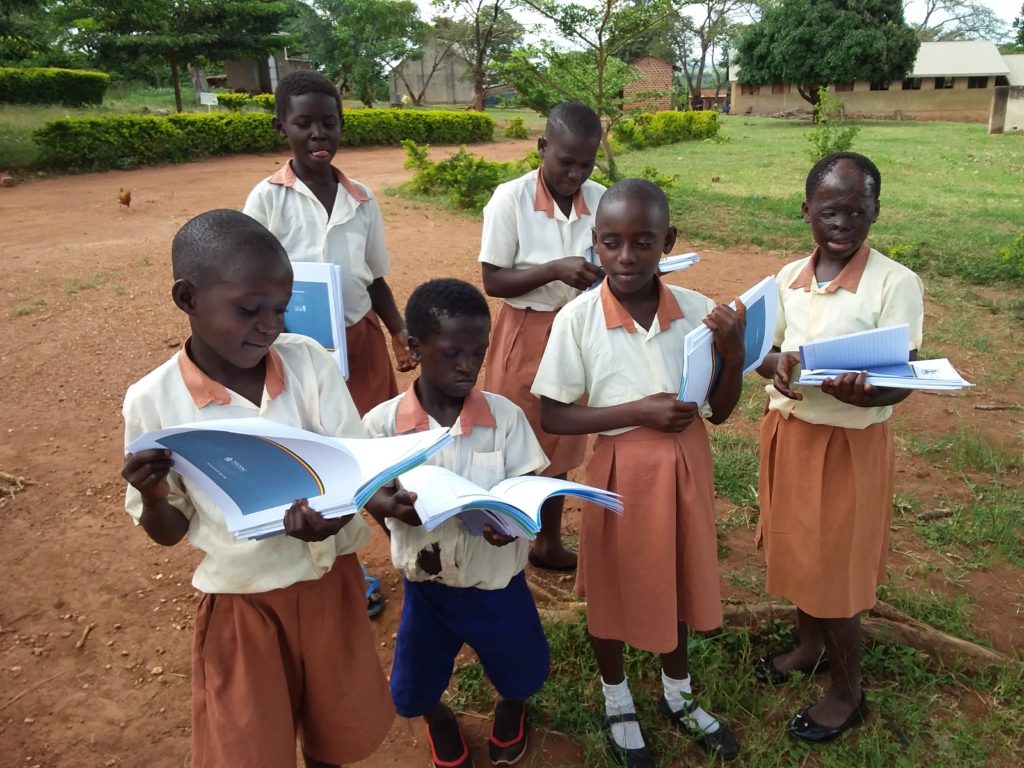 Solar Lamps
1,400 children have also been provided with solar lamps this year, so that they can continue their studies in the evenings!
Patience is the youngest of 9 children. Her mum struggled to pay for electricity, or even a kerosene lamp at home, and on dark nights the whole family shared a single candle.
Their lives changed when Patience was given a solar lamp! Nights are different now that the family have a lamp that charges during the day and lights up the room at night!
Goats and Pigs!
Lockdown in East Africa caused a drastic loss of household income. Sponsorship funds have been used to distribute livestock and training to sponsored children and their families. A goat or pig can provide a small, steady income for families. Nearly 2000 piglets and goats have been given to families across Uganda!
Teacher Support
School lockdowns have also been difficult for many teachers. Those employed by the government have not been paid a salary since schools closed. The generosity of sponsors has also supported 660 teachers in Uganda and Rwanda by providing emergency food and money, to tide them over until schools open again. It is vital that sponsored children will still have good teachers when they return to school!

Child Protection
Unfortunately, lockdown and school closures have resulted in an increase in child abuse cases, and our staff are concerned by the number of teenage pregnancies they have encountered. Fields of Life sponsors have helped communities to recognise the signs of child abuse, through an awareness campaign running across more than 60 rural radio stations in East Africa. Our staff are partnering with local governments to follow up on Child Protection cases, and offer support to those affected.

The Ugandan government has announced that primary and secondary schools will remain closed until January, but there are plans to reopen universities in November.

Until every child is back in school, sponsors are helping make sure children are educated, fed, safe and loved whilst at home.

P.S. If you're a child sponsor, it's now a better time than ever before to write to your sponsored child to encourage them! For a reminder how, see our communication guidelines here.